New Zealand Athletes Who Have Built a Strong Personal Brand and How They Did It
It's easy to talk about building a personal brand, but it can be much harder to put everything into action and create a cohesive online presence that also aligns with your values. Luckily for you, we have profiled four Kiwi athletes that have done a great job building their personal brand, each having their own unique methods in doing so.
Pay attention to the niche these current and former athletes have chosen, the mediums they use (blogs, podcast, youtube, LinkedIn, etc.) and how they relate to their target audience, their authenticity, even their own branding colours.
Featured Athletes
Carlos Price (Rugby) - Founder and Director of One Three Eight
Sarah Gregorius (Football) - FIFPRO Director of Global Policy & Strategic Relations Women's Football
Shaun Kirkham (Rowing) - Public Speaker and Digital Marketer
Taylor Rapley (Alpine Skiing) - Āhua Psychology and Mental Skills Coaching
1. Carlos Price (Rugby) - Founder and Director of One Three Eight
Carlos Price has built an extremely solid personal brand across a variety of platforms, especially since founding clothing brand One Three Eight in 2019. Despite 138's main products being streetwear, Carlos understood from the beginning it was about so much more than that. "Although we love expressing our style through clothes, fashion itself is not the key driver to our brand. We love to storytell, we love to teach and we'd love to bring you along for the journey."
Carlos has managed to grow 138 from nothing to a strong and very loyal following on Instagram, Youtube, TikTok, and his Podcast, sharing all of his wins, losses, and everything in between. He owes a lot of his success to being authentic and sharing the ins and outs of starting an NZ business with no experience.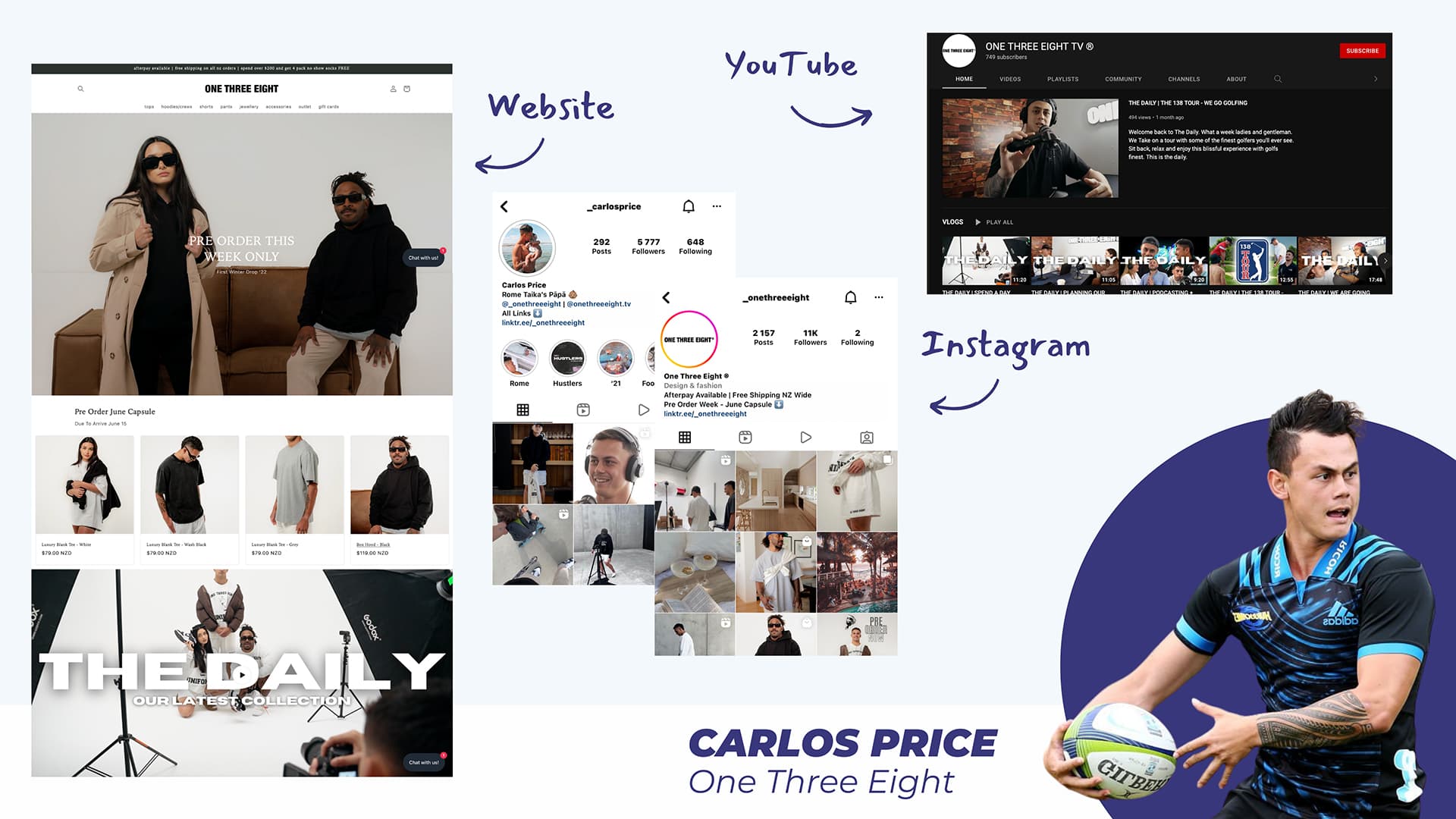 How important has authenticity been in building your personal brand and One Three Eight?
Authenticity is massive for me, morally it wasn't even a question. I'm not a bullshitter and I think it is very easy to see through fake and non authentic people. It helps you connect with people on a different level. They trust you more and they want to be a part of your growth and journey when you're more authentic.
How has being an athlete prepared you for getting into business?
Every day I see massive overlaps between being an athlete and business and I always refer things that I approach in business to things I've learned in sport - It pops up all the time. Coming from a pro sporting background that taught me resilience, that things aren't going to go your way, and you've just got to work hard. You learn all of those things from being an athlete. You face things that a lot of other people haven't dealt with that don't have a background in sport or a high performance environment. Work ethic is huge, to be a pro athlete your work ethic has to be crazy, you have to be a little bit addicted and obsessed which I think you have to be with your business.
Another thing that overlaps hugely is when you enjoy what you do, it's the best job in the world. That's the win. That's success. I felt that through my sport and then it faded a little bit and I felt that same feeling when I started getting into business, and now I've found my love for sport again.
Are there times where you think you got your personal brand wrong?
Anything I dive into on my personal social media/personal brand is always something I am passionate about. I've never targeted money so I don't think I've done anything wrong. Sure, there may be some things I've done that people don't agree with but that just comes with being authentic.
Bunn Leng, owner of Satay Noodle House said something to me once - your vibe attracts your tribe. If people are aligned to you you will attract them. I know that the people who follow me align with what I do and that's what's important to me.
Your personal brand and One Three Eight seem to align very closely in terms of values, audience and messaging - was this intentional?
I followed a lot of what Gary Vee and Isaac John said around building a personal brand and building your brand into a person. Naturally, me putting my face on the brand meant it became a reflection of me, so in a way it was intentional - what people perceive of the business is what they perceive of me and that comes from me being authentic.
That comes with downfalls because if something goes wrong that's my face on the brand and I've got to be accountable for that, you get the upsides and the downsides.
Some athletes fear that working on something will distract from their performance as an athlete. Can you speak on this and share your experience of juggling life as a full time athlete and building a brand from scratch?
It is going to distract you but I don't think that's a bad thing. Some people are so indulged in their sport and what they're doing that it becomes unhealthy and they don't have that release outside of sport. Creating a business did that for me, and it's like your insurance because you're setting yourself up for when things don't go right. Regardless if your career goes well or not, at some point it will end and it's good to have something else to fall back on.
When you have something outside of your sport, it gives you a different outlook because it's not your be all and end all and you start not caring as much about the little mistakes which I believe has a huge positive impact on your performance.
It's a taxing job being an athlete so a lot of people want to chill and sleep which I completely understand. But everyone has downtime, so rather than playing on a PlayStation, you can start exploring those other passions. It's about what you do with that down time that helps you develop as a person outside of being an athlete. If you find something outside of sport you're passionate about you will actually want to do it, it won't feel like a taxing job.
What message do you have for any athlete looking to grow their own brand whether it be starting a business or just growing their personal brand?
Use the leverage while you have it. When you're an athlete everyone cares about what you're doing. They care about what you like, what you eat, your haircut, your clothes. Because you're an important person in the community because we put sports people on pedestals so while you're in that position of power use it wisely. Don't abuse it, but use your audience to build something while you can. Create something that can help people.
2. Sarah Gregorius (Football) - FIFPRO Director of Global Policy & Strategic Relations Women's Football
Sarah Gregorius is an ex-international footballer who has competed at numerous World Cups, Olympic Games, and on many professional teams around the world. Since retiring, she has gone on to become Director of Global Policy & Strategic Relations Women's Football and international organisation, FIFPRO. She has a professional online presence and a global role with a prestigious organisation. Her content is focused on LinkedIn where she shares content from business meetings, conferences, and current events in the football world, specifically highlighting gender equality.
Gregorius's new role was a natural extension from her role as an athlete and it allows her to stay involved in the sporting arena and play an important role in changing the game for the better.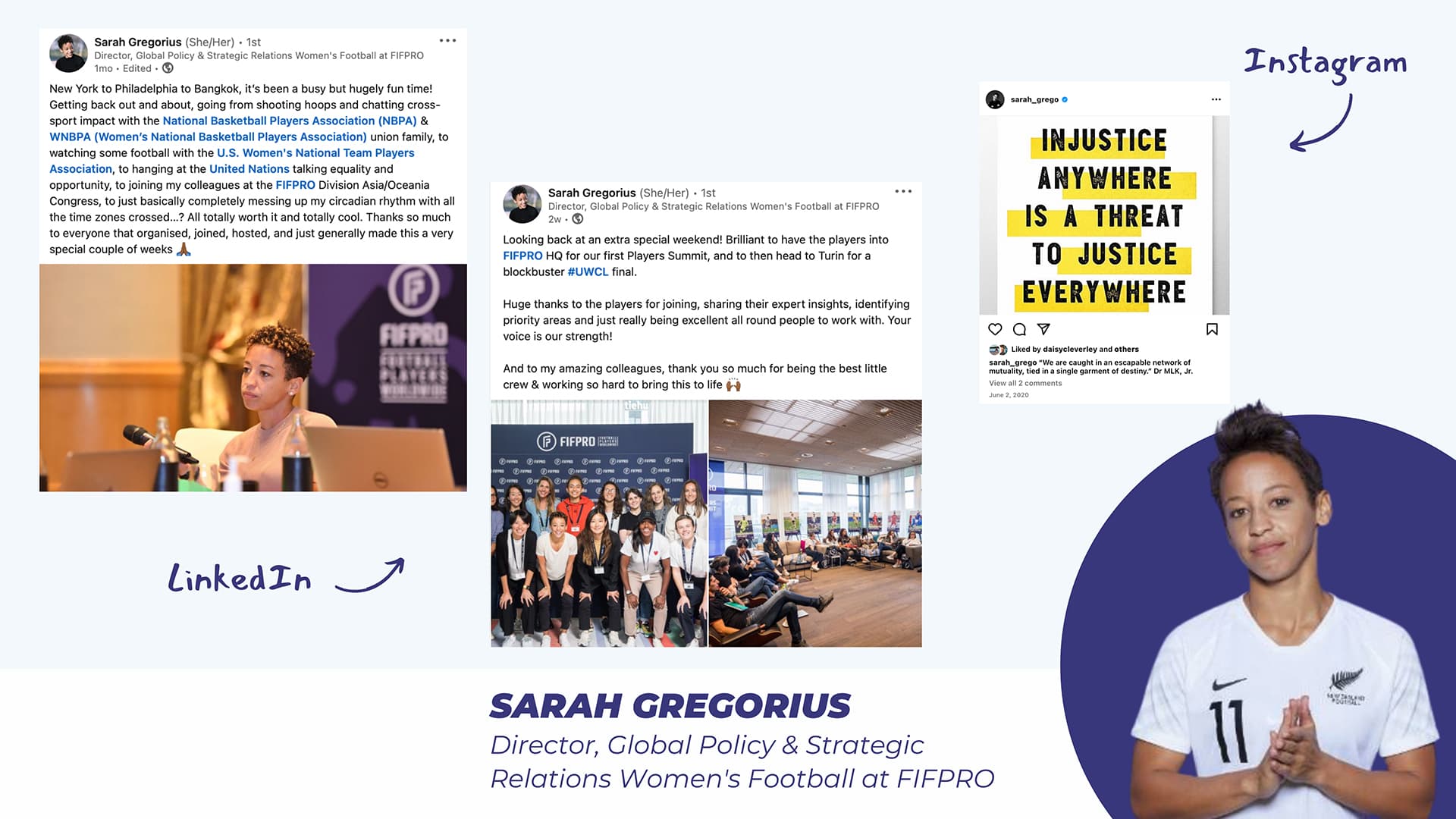 How important is aligning your personal values to the work you do at FIFPRO?
Extremely important. FIFPRO's work can be quite intense and draining, as it is not only a global organisation, but also one that tackles some very serious issues on behalf of players – from protecting players from discrimination and abuse as well addressing industry regulations and being part of the international governance environment. I think to operate in that space requires you to have strong values, and values that align to the organisation that you work for. I have this at FIFPRO so I am very fortunate; I get to infuse my work with that passion for fairness, equity and justice. It makes the work not only enjoyable but also helps to make it feel like more than a job – I'm genuinely passionate about the work that we do and can do.
What has your time as an international athlete helped you with when stepping into this role?
My job is hands-on with players, so having that background myself helps me to inherently understand and relate to players. It also gives me a unique and valued perspective on the work that we do and the decisions that are made in the international football stakeholder environment. I can immediately relate those potential decisions to the impact that they will have for the affected athletes – which is important because it feels sometimes that there is a lack of understanding amongst some of the other decision makers on how something that is decided in a boardroom will affect the lived experiences of players themselves. That intuitive knowledge and understanding is really valuable, especially when there are many other competing interests that look to exploit players for commercial benefits.
Do you have any advice for athletes who will transition away from sport and into the workforce?
My advice is always to remain as open as possible to the opportunities that are out there. I feel that players aren't aware of all the possibilities available to them and usually look at the more "obvious" paths, such as into coaching or punditry. There are so many more aspects to sports business that really need the talent and creativity of players infused into them – we have so many desirable skills and I don't think athletes look at those skills as having so much inherent value. Translating and transferring those is the key to success, and also not underestimating what you've built over the years as an athlete. But, most of all, get to know yourself as a person and figure out what moves you. And the best way to do that is to stay open, make the most of opportunities that come your way and the diverse range of people you have the chance to interact with. You never know when one of those connections turns out to be something really valuable down the line.
How important was building a strong network while you were an athlete? How has that helped you since you have retired?
It was important, but I also understand that as athletes you just want to focus and hone in on the time you have on the world stage. So I also wouldn't say it's the MOST important thing. I still believe knowing yourself away from your sport is even more critical than building a network, but having a strong and (where possible) global network is very useful. You will bump into all sorts of people as you go into the off-field areas of life and athletes shouldn't underestimate how much impact they can have while they are playing their sport. So always be courteous and kind, and make the most of platforms such as LinkedIn to stay connected.
What advice would you give to someone who is wanting to explore new passions while they are still competing?
Just go for it. Being an athlete is consuming and intense, but you definitely have more time than you realise. Get to know yourself, find what makes you tick away from sport and cherish it too. When you can try something new, step outside the bubble and have a crack – explore what makes you curious, you'll be a better balanced person and athlete because of it.
3. Shaun Kirkham (Rowing) - Public Speaker and Digital Marketer
Shaun Kirkham began growing his personal brand while he was training for the Tokyo Olympics. His entrance into digital marketing came when he decided he wanted a job outside of rowing, and walked into Kaz - Design. Brand. Web. asking if they had an available job. He succeeded in this job, working here throughout his campaign that would end in Olympic Gold. This gave him the foundation to launch his own business, SK Digital where he helps New Zealand Businesses grow their online presence through digital marketing, website development, social media, and SEO.
Shaun also launched his own personal website during his MIQ lockdown after the Olympics where he offers his services as a public speaker with different companies, teams, and organisations to share his learnings from his rowing career and what it took to become an Olympic gold medalist.
Shaun focuses on the things he's good at which makes sense, building websites and writing long form content through blogs on both of his websites on topics focusing on SEO and website design such as - "Is Website Design Important", "SEO vs. SEM", and "Is SEO Important"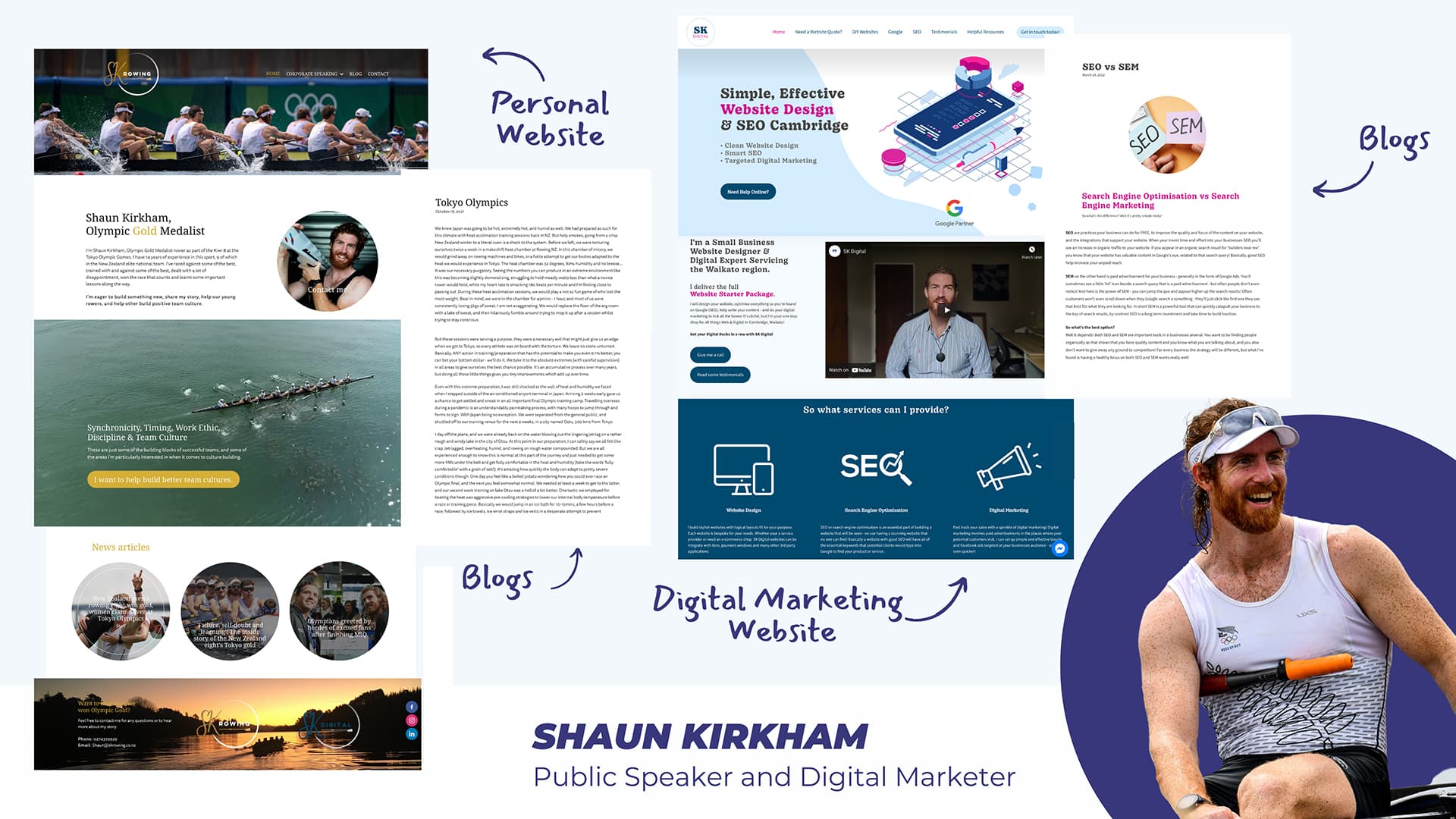 What made you start to explore areas outside of your sport?
I had been beaten down by sport over the course of 7 years and sort of realised that I needed to be more than 'just an athlete'. I found that too much of my identity was wrapped up in rowing and it wasn't healthy. I needed to prepare for life after sport because in the grand scheme of things – you can only compete for so long! I believe too many athletes don't have enough balance in their lives, or believe that having balance or other focusses will negatively affect their sporting performance – this is categorically incorrect!
I realised I needed to seek out work experience to create more balance in my life, and in an industry that will continue to be important in the future.
How do you think working in the digital world helped you as an athlete while you were still competing?
It gave me perspective. Regardless how a training session, or race went, regardless whether I got injured or sick – life went on! Sport and rowing was my entire world and working in digital made me realise it didn't need to be. This actually improved my sport performance because I was putting less pressure on myself! It's also a great industry to be in due to how flexible you can be – I can operate my business from my laptop, anywhere in the world!
How did that work help your transition when you retired from rowing?
Regardless of how prepared or ready for retirement you are – it is still a shock to the system and a massive change in your life. I feel immensely grateful to have accumulated skills and experience outside of work to fall back on. At first, it helped my transition by ensuring I had a reliable means to put food on the table. Then it grew into a new glorious purpose – to build an agency that can stand the test of time and produce awesome work for clients. Having a background in digital helped me gain purpose after sport.
You focus a lot of your personal brand on websites and blogs - was there a reason for this?
There are 2 parts of my personal brand that I am developing, both with different motivations. My personal rowing brand and my business brand – and the reason I develop and leverage these efforts on websites and blogs is that we are 'online' people. A website is the most powerful platform for sharing your story and purpose, it's a platform free of restriction – you can create your own path. It has given me the opportunity to expand my efforts whether it be developing my corporate speaking/team culture workshops, or building on and delivering my digital products. Regardless, a website is a great way to leverage and legitimise your personal brand.
What tips would you give an athlete looking to grow their personal brand?
You need to understand what your personal brand is – What value or beliefs do you hold? Where do you want to be in 5 years? What type of athlete do you want to be seen as? – Use the answers to build a personal brand which is in line with your values.
Use the platforms at your disposal (Insta, FB, Website), to do good in whatever you believe in.
Word from the wise – Don't be just an athlete, be more, find purpose beyond sport.
4. Taylor Rapley (Alpine Skiing) - Āhua Psychology and Mental Skills Coaching
Taylor Rapley was part of the New Zealand Alpine Ski team and spent years competing around the world before hanging up the ski's. Throughout her personal journey as an athlete, Rapley developed a passion for psychology and launched Āhua Psychology where she helps athletes, organisations, and every day people with mental skills training to help them overcome resilience and step into their own power. Her branding is extremely cohesive and she largely focuses her content on her Instagram, while having a professional business website with her services.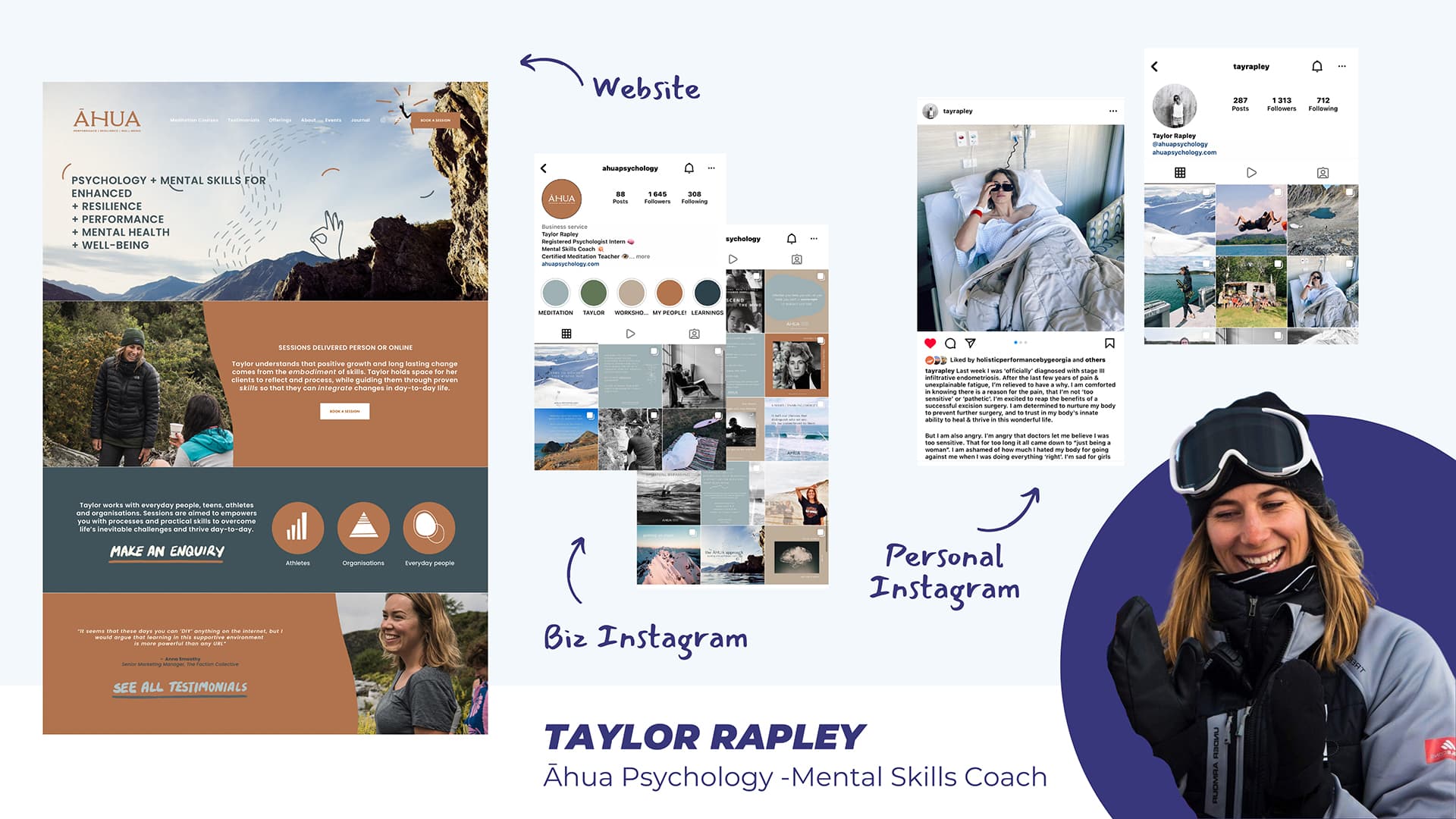 Was there a pivotal point in your journey that helped you realise you wanted to focus on mental skills and psychology?
When I was competing I struggled to perform consistently under pressure. I trained well and raced at half my potential - it was the most frustrating thing ever. At that time, I didn't have access to a performance psychologist with an approach that suited me. It was a one size fits all model, only I wasnt that size. The imagery and all the traditional stuff didn't work for me. I wanted to be a psychologist who had an approach to fit varying athletes with their unique needs. That's been a huge motivation for my studies, training and work.
I also had a tough time transitioning out of sport. I had what I now would refer to as an identity crisis when I retired from competitive skiing, I didn't know who I was without it and felt like a nobody. I had also put my body under a huge amount of stress... skiing back to back winters since I was 15 with f-all balance in my life and a lot of injuries. I think my nervous system was a bit cooked. I went into a pretty dark place mentally, and found myself with the support of a psychologist who understood mental health and high performance sporting careers. Having someone who understood that unique part of my life and my mental health struggles was game changing.
Being able to offer athletes support with their performance, but also their mental health is a big motivator as we, athletes, are people first.
What are some key learnings you've had while building out Āhua - the part you've struggled with the most? The most rewarding part?
I have had to learn and trust that I DO know enough, that I am enough. I have studied for 7+ years... getting registered as a psych is a long, lengthy process and for a long time I thought, I need to study more, I need to know more before I can help people. When I was finishing my Masters I was planning a PhD. But I wanted to help people, and I couldn't do that if I kept accumulating more knowledge and doing nothing with it. I quickly learned to trust that I do know what I'm doing and as long as I practice within my scope, I can help people with what I know right now. I don't need to have a PhD and a million degrees behind me to do that.
I have learned that the inner critic is very real. I have learned to know it and understand it rather than identify with it. This has helped keep me in check when I need to be put in my place, but knowing my inner critic inside and out has helped me past it when it's talking nonsense. Running my own business means I do a lot of comparing with others. The mental wellness industry on social media can be extremely overwhelming and saturating. But someone reminded me that my social media is an echo chamber of what I know and seek. They told me not to compare myself with all the other psychologists and coaches out there, to not get caught up in thinking I'm good enough. They reminded me that the people who engage with you don't follow / interact with 700 other psychologists and coaches like you do. They're not comparing you. So don't compare yourself, stay in your lane.
I have learned that when you put yourself out there, there will always be that one person who tries to bring you down. It's important to listen to understand, and know when to take someone's feedback and when to ditch it.
The most rewarding part has been in creating my own work. I get to see 1:1s, run workshops, create courses, stay connected with research and the academic side of things and network with some amazing professionals and mentors. Everything I do has so much purpose and is very meaningful to me... I hate to be that person but more often than not, work doesn't feel like work at all. I'm very privileged to be able to say that, but I worked hard to get to this point.
How important has your personal network and word of mouth been in growing your brand vs. paid marketing?
I have actually never invested in marketing before. I have used my own social media to share things but that's it. Word of mouth is my marketing strategy and it's worked so far, thankfully.
I would like to look into some paid marketing for some of the courses I'm launching this year... but have zero interest in doing this myself so will most definitely outsource. Something I have also learned, outsourcing is an investment. Trying to save money by doing everything yourself is a false economy.
Do you have any advice for someone who doesn't feel like they have a niche yet but they want to start exploring options?
Before I pursued post-grad studies and took on this mission to become a registered psych, I only had a faint idea of what I wanted out of it. I was terrified of the commitment of so much study and training, and that was if I even got into the programs I needed to apply for. If I had thought too hard about it I would have thought it was in the too hard basket.
I felt a wee pull towards psychology and the Masters program and reminded myself, I can start and stop whenever I like. Knowing I could quit at any point helped me go all in. We often look at quitting like it's a bad thing. But if we can't quit, or I'd rather refer to it as adaptation, then we might never start in the first place. My mum used to say, "give it a try and if you don't like it, don't do it". She always reminded me of that... "you can stop something or change something whenever you like". I have never felt pressured to follow through with something and I think that's why I often do follow through, because it's for the right reasons.
My advice is to listen to your charm (that pull you have towards something) and lean in. If you don't like how it feels you can always change direction.
And in my experience, nothing ever goes to plan. Things will always end up different to how you imagined so I try not to get too caught up in rigid plans and goals. Put yourself or your idea out there and you'll adapt along the way.
If you want to read our complete guide on How to Build your Personal Brand as an Athlete and Why it's Important: Click Here